It's been a longer wait than expected, but Wave 3 of Super7's Teenage Mutant Ninja Turtles Ultimates! has finally arrived. The original plan was for a new wave of figures to start shipping every 4 months, but COVID had other plans. When we last looked at a figure from this line, there was snow on the ground, we were all trapped in our homes waiting on a vaccine, and Valentine's Day cards had yet to hit the clearance rack. Now we're in the dog days of summer, people are arguing over masks again, and kids are heading back to school. It is what it is, but at least the wait is over and collectors now have 3/4ths of the Teenage Mutant Ninja Turtles assembled for Michelangelo has arrived!
If you're unfamiliar with this line of action figures form Super7, this line is an homage to the original Playmates line of action figures first launched back in 1988. Actually, it's less an homage and more like a straight remake with the figures boosted to fit in a 7″ scale with updated articulation, paint, and sculpting. Some look so much like the old toys that from a distance one might think they're the same, just bigger. Up close though the differences become more obvious. With the turtles themselves, they especially look more updated than some of their friends and foes. Those old figures had permanently bent elbows and knees and while you could approximate such a pose with these new figures, it's not something most would want to do. The turtles also come with a secondary portrait that's a lot different from the original so if that's the chosen method of display then they'll actually look quite different. All of the main details are still in place though including the white eyes, facial expressions, belts, and skin tone.
And if you've handled Raphael or Leonardo, then you know what to expect from Michelangelo. The party dude is essentially the same figure as his brothers. The only thing that distinguishes the turtles from one another is the color of their skin, shell, mask, pads, and the shape of the belt which needs to be customized to serve the turtle's chosen weapons. Michelangelo sports a deep, forest, green for his skin which has always looked great with the orange mask and pads. As a kid, it was toss-up for me which shade of green I liked best between Mikey and Raph, but I think I can safely say I prefer Mikey now. His default head still sports that side grimace with the right side of his mouth baring teeth and the left not. He has four loops on the rear of his belt to store his chosen weapon, the nunchaku, and a yellow M is emblazoned on his belt buckle so he doesn't forget his name. He looks good and there is a black wash over parts of his body to accentuate the muscle tone. It does, unfortunately, seem to be on the default head and gives his orange mask a dingy quality. There's also a bizarre factory error on my figure concerning the left ankle (pictured below). It looks like the cut was done incorrectly for the ball-hinge. Since his foot can only rock, not twist, it means it can never lineup with his knee and looks weird. It's probably only something I'll notice, but it's definitely one of those things that once seen cannot be unseen. One of the horizontal hinged hands has a similar issue. Regardless, it's not enough of an issue for me to initiate a return and exchange, but I did reach out to Super7 to see if they are willing to send a new lower leg (which just pegs into the knee) and I'll update this post accordingly if they do indeed provide such.
Where Mikey differs from his brothers is in some small ways. The rear of his shell is basically black where Raph's was a light brown and Leo a deep green. His belt is all black and the trim on his belt buckle and the rings in the belt is ever so slightly darker than the same on Raph's, and a lot darker than the chrome used on Leo (which sounds like that was a factory error and re-releases of Leo should be closer to Raph and Mikey). The front of his shell is fairly yellow, which surprised me a little because Leo's was darker, with more orange mixed in, than Raph's. Mikey's though is pretty much the same shade of yellow as Raph though making me wonder if Leo was supposed to match and it's just a factory variance. Oddly enough though, one difference that looks weird is Super7 declined to paint Mikey's finger and toenails. Leo and Raph both had a bright, yellow-green, color to their nails that looked fine on Raph, but a little like nail polish on Leo. Maybe they didn't like how it looked on Mikey who features the darker skin tone. They could have gone with another color though rather than not paint them at all, but it's not something that stands out on a shelf either so I guess it's just me nit-picking.
In terms of articulation, Michelangelo is exactly the same as his brothers. As such, I don't feel the need to break it down completely again since you have that in my reviews of Raphael and Leonardo, so instead I'll just say what's good and bad about it. For one, Super7 does not like double-hinged joints. It's something we just have to agree to disagree with when it comes to Super7. I will say, Mikey's joints are at an appropriate tolerance which is an improvement over his predecessors. His extra hands and head also swap a lot cleaner. Maybe all of that extended time sitting in a hot shipping container did some good? The only joint that is a little tight is at the shoulder, but that's a strong joint so it's something I don't worry about breaking. The hips, a point of contention with the past figures, seem tighter and Mikey stands just fine. The lack of a butterfly joint and the fact that his arms can't quite bend at 90 degrees are more of a problem for a 'chucker like Mikey. I can't, for example, get him to do the 'chuk over the shoulder with the other hand reaching across the chest/belly to grab it pose. The 'chuks aren't quite long enough, nor can he reach all the way across his body. He can at least hold one handle of the nunchaku while the second is in a belt loop.
Where Mikey is the same, but different, from his brothers is in the accessory loadout. Obviously, he's got to have his 'chuks and Super7 decided to give him three sets. One is all painted, plastic, versions of the nunchaku he came with in '88, only now the chain is sculpted instead of plain. The second set is painted as well, but features actual chain links between the handles which has basically become the standard ever since NECA's 2008 release of the Mirage Michelangelo. Both have advantages and disadvantages when it comes to displaying the figure as the real chains give the figure an added sense of realism, while the plastic version allows for gravity-defying posing. The plastic links have a slight bendy quality to them so you can try to position them in a manner that makes it look like Mikey is swinging them. Both sets can fit into the rear holsters on his belt just, albeit quite snugly, though I prefer the chained versions for that since it's not going to put stress on the weapons like it would the all plastic version. The third set is another pair of plastic nunchaku, but unpainted like the vintage toy. It's attached to a sprue/rack along with the other "ninja" weapons likely no one uses. Something I'm just now noticing is that all three turtles feature a slightly different shade of brown for their weapons rack. I'm not sure if this is intentional or not, but might bug some people. I, personally, never take them out of the package so I have no right to complain.
In addition to the nunchaku, Mikey also comes with painted versions of the generic weapons all of the turtles came with and have come with: ninja stars, that hooked thing, and the little knife weapons. He also has an assortment of hands including gripping, fists, and style posed hands. He also has another set of gripping hands with a vertical hinge instead of a horizontal one. The second head follows in a similar aesthetic to his brothers in that it's a bit more realistic, with actual wrinkles and lines to accentuate his expression and basically bring him to life, albeit in a comic book sort of way. Where his alternate head differs though is that Mikey isn't just wearing an updated version of his old expression, but one entirely different. It's an all toothy, open mouthed, grin and it definitely takes a little getting used to. It reminds me of the 2k3 Michelangelo from Playmates, as well as that popular GIF of the costumed Mikey head grinning. It's an appropriate expression for Mikey, but I'm not super enthused with the execution. There's a rather sizable gap between each of his teeth that looks odd and it made painting the mouth a great deal more difficult. It's a little sloppy. On a shelf, it's probably not noticeable, but it should look better. It puts me in a bit of a tough spot with the figure as I've gone with the alternate portraits for Leo and Raph in my display, but those old toys ones just don't blend well with that look. So while I want to go default here, I'm likely go with the alternate head just for balance. It's not a terrible look or anything, but I definitely have a clear preference for the vintage head with this figure where as with Raph I definitely preferred the new one, and with Leo it was more 50/50.
We're not done though as Mikey still has a few more accessories. Unlike his brothers, he does not come with any Turtlecoms or even a slice of pizza. Instead, he has his trusty Turtle Hook weapon/grappling hook that he featured in the cartoon. The Turtle Hook started off as this piece of equipment all of the turtles seemed to carry, but it would eventually become Michelangelo's weapon of choice because certain parts of the world had some issues with the nunchaku. It makes the Turtle Hook something that's both loved and hated, we all loved it as a fun accessory, but hated to see Mikey running into battle with just a grappling hook. It's a smart inclusion for a toy though, and while I like the look of it, I must say this is my least favorite attempt at the Turtle Hook to date. It's non-articulated, and the string attached to it is very plain and lacks something that would make it easier for the figure to hold. Both Bandai and NECA put a piece of plastic at the end of their Turtle Hooks, but Super7 elected not to. It's probably not something I'll display with my figure, though I suppose I prefer it to another Turtlecom. Mikey's other unique accessory makes a lot of sense for him though and it's one I do like: a box of pizza. There's only one slice left in it, and there's some "cheese" stuck to the top of the box, and it's just a smart inclusion for Mikey. I do wish the box could open and close though, but it works for a display. The pizza in it is permanently glued in at an odd angle which kind of stinks since you can't fill it with more slices. It also seems a touch small given the size of the slice. I'm guessing a lot of collectors will choose to display Mikey with the pizza though alongside the slices that came with Leo and Raph as opposed to a more battle ready pose. It certainly works well with his alternate head.
Super7's take on the party turtle arrives largely as expected. That's what happens when a mold is reused for four different characters. The good thing is that mold looks pretty great and packs enough functionality to make this a worthwhile figure to own. And if you already have Raph and Leo, well then you're going to get Michelangelo. Super7 did right by the character when it comes to his signature weapon, and I do appreciate Mikey getting a couple of unique accessories to help differentiate him from his brothers. I do wish he didn't come with more ninja stars and those generic weapons, but I also understand what Super7 is going for with this line. Thankfully, there's only one more turtle to go and then we can hopefully bid those things goodbye. Hopefully, the wait for Donatello won't be as long as the wait for Michelangelo was as that would mean a 2022 release for Donnie. I guess we'll just have to cross our fingers until then. And if you want to know more about Wave 3 of Super7's TMNT Ultimates! line then check back soon as we have a couple more figures to talk about!
UPDATE: After reaching out to Super7 about my Mikey's weird ankle joint, I was asked to contact the retailer first to see if they had replacement parts on-hand, so I did. I emailed Big Bad Toy Store and about 2 days later I heard back. They were sending me a new Michelangelo at no cost to me and didn't even want the other one back. That's some pretty awesome customer service. I'm no shill, and I don't have any advertisements on this blog or receive review samples, so I'm just telling you as a consumer that Big Bad is pretty great. The unit was partially defective through no fault of theirs and they still made it right. Now, I'm guessing they get reimbursed by the manufacturer when these things happen, but it doesn't change the fact that it makes things really easy on the consumer when retailers just replace product with zero hassle.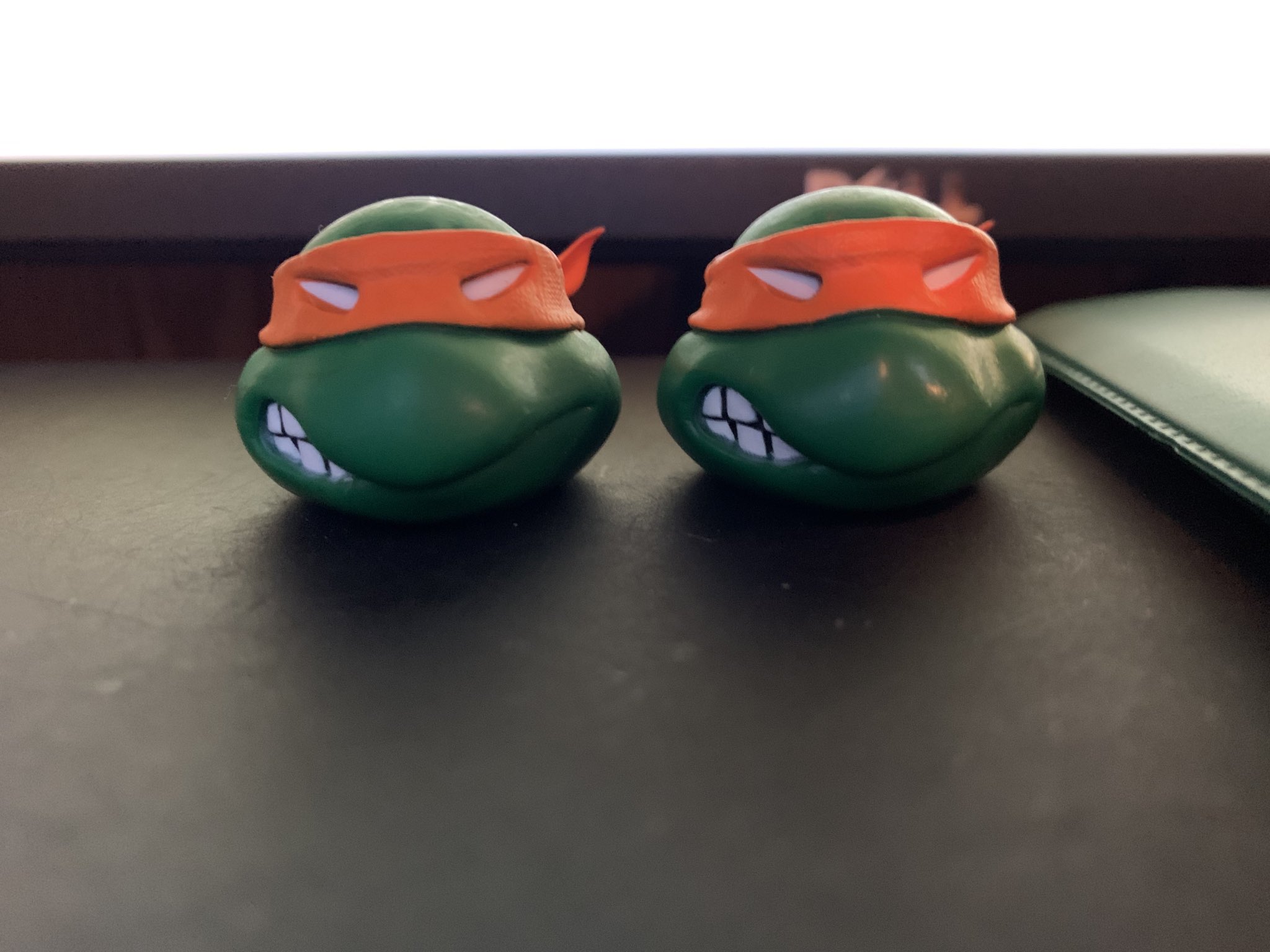 And upon receiving my new Mikey, I did notice something that escaped me in my initial review. Truly, it wasn't really something I could have seen unless I had two figures in front of me that featured this distinction. And that is, my new Michelangelo has a coating on his default head that gives it more of a textured, matte, finish. It's subtle, but it's something that's on Leo and Raph. And with Leo, I noted in my review that he had a little swath on his face where this was missing and it seemed to be widespread. I have no idea why this is the case with Michelangelo though. There's only been one factory run so it's probably not a running change, unless it was something that was supposed to happen and the factory noticed it mid-production, but it's pretty odd. It's hard to predict if this will be an issue in the collector community to the point that Super7 will be asked to respond. I definitely prefer the matte look, but maybe some will like the glossy appearance since it more resembles the original. Who can say? If it matters to you though, there's not a lot you can do since most of these are purchased online. If buying from eBay, you can inspect pictures. If you find it in a comic book store then obviously you can get a better look at it, but you'll also likely be asked to pay a significant mark-up.