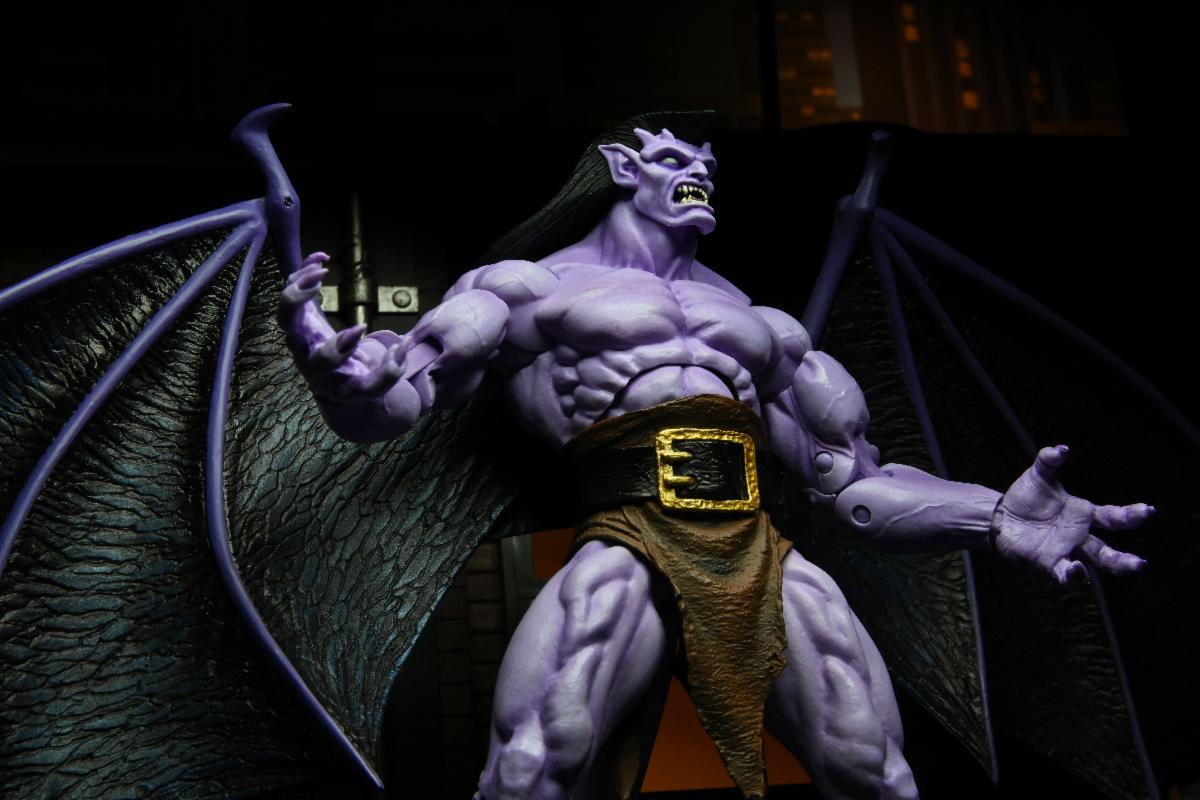 It was announced one week ago in a post timed for midnight on the east coat that toy maker NECA had acquired the licensing rights to produce action figures based on the Disney Afternoon classic Gargoyles! NECA had begun teasing a new intellectual property had been acquired back in January and the only clues provided were that it was a 90s property enjoyed by kids that had yet to experience a revival of any kind. This had heads spinning, including my own, and I nearly made a blog post on the subject itself. The reason I did not is because it started to become apparent that it was indeed Gargoyles. That wasn't due to anything NECA said, but what it didn't say as fans tossed ideas at the company's official Twitter account and the Gargoyles suggestions were left untouched. Gargoyles just also made sense for NECA, who originally made a name for itself in the collector space with its horror themed releases. While not horror, Gargoyles is certainly horror adjacent with its gothic imagery and fright-inducing main cast. It also fit the description provided by NECA perfectly as no one has attempted a modern toyline, even though there's an obvious fanbase hungry for more, and because there just weren't a lot of other options. The best non-Gargoyles thing I could come up with was Captain Planet, a certainly remembered franchise, but one I'm not sure has a rabid fanbase. Though with NECA's recent Defenders of the Earth toyline selling out I suppose it's hard to figure out just what doesn't have a fanbase eager for modern toys these days?
The Twitter announcement came with some delightful images of the line's first figure: Goliath. For Goliath, and likely the line as a whole, NECA took the basic cartoon aesthetic and applied some artistic licensing in bringing the figure to life. He is far more detailed than the character model from the show with realistic (though exaggerated) musculature and textures to his skin and claws. He looks really cool, but it's understandable that some fans were left wishing he better matched-up with the animated version, since that's the look most remember. NECA's approach does remind me of classic toy lines which were often more detailed than the cartoon source for the simple reason that cartoons have to dial down the details in order to keep costs down. This figure, which I'm judging based off pre-release images, looks like Goliath to me so I'm fine with the approach. Should the line find success it wouldn't shock me to see NECA double-dip and add a toony line, especially as it pumps out Teenage Mutant Ninja Turtles figures at a tremendous pace potentially hastening the end of that line.
Meant to be modernized w more detail and anatomy not a direct copy of the cartoon. Toys have come along way since 1994. Stylized realism if you will like Defenders of the Earth & our DC vs Dark Horse line https://t.co/O9iNSiEwVd— NECA (@NECA_TOYS) March 31, 2021
https://platform.twitter.com/widgets.js
And the early returns suggest the line is off to a fantastic start. Preorders opened up the day of the announcement at all of the usual online spaces. They sold well enough that NECA sent out a press release to its retail partners saying it needed to cut-off preorders earlier than expected and set a date for that to take place of April 2nd. It's possible fans will be able to order Goliath figures past that date as that is the date for retailers to get their orders in. If a retailer like Big Bad Toy Store sees Goliath selling well, it might submit a higher order on that day than what it's sold, especially since large retailers rarely submit an exact order. It does mean that once places start closing orders following April 2nd, Goliath will be unobtainable until the figure's official release expected sometime in July. NECA has stated the figure will be sold, and I quote, everywhere so there should be no shortages of places to go toy hunting, but I for one definitely prefer to secure an order early rather than later.
And Goliath will not be the only figure from Gargoyles the company releases. NECA has yet to show off any other figures, but has stated there are five finished and more in development. The company hopes to reveal a new one each month and stagger the release in the same fashion. That means if Goliath is coming our way in July, then figure number two should follow in August, and so on until all five are out. And that certainly has fans speculating who will be among the five to follow in Goliath's footsteps. The Manhattan Clan from the show included fellow gargoyles Brooklyn, Hudson, Lexington, Broadway, and Bronx. That's five right there, but I'd be quite shocked if rogue Demona is not part of the initial launch. I'll even go so far as to say I'll be surprised if she isn't number two behind Goliath. There are certainly plenty of other characters for NECA to turn to such as ally Elisa Maza and villains like Xanatos, MacBeth, and The Pack. It's possible NECA will try to offset the development costs of the tooling intensive gargoyles with humanoid characters that might lend themselves well to parts reuse, either with each other or from other NECA lines.
All that is to say this line could have serious legs. There are a lot of characters from Gargoyles to mine and I suspect NECA will be eager to do some of the clone characters, like Thailog, since they're just redecos. The tooling in this line looks like it could be costly, but Goliath is being solicited for the extremely reasonable price of $33 in most places. That price gets you an 8″ tall gargoyle with a 16″ wingspan. He has multiple face portraits and extra hands to go along with a book accessory and the ever important jalapeno. The part where NECA will save some money does rest with the accessories as most of these characters require little to none. Hudson brandished a sword while Demona often had some heavy artillery, but the rest were just gargoyles armed with tooth and claw. I am supremely excited for this line though and I just wanted to share that with the world before the preorders close. Fans of Gargoyles have been waiting for something like this for a long time and hopefully it's the start of a revival of sorts. If it only leads to an extensive toyline though, I'll be plenty satisfied.
If you want a Goliath figure of your very own, here is a non-exhaustive list of some places where you can do just that (I receive no compensation from these websites if you do choose to order from one of them):
Dorkside Toys – Lowest price of $30, not sure what the shipping charge is.